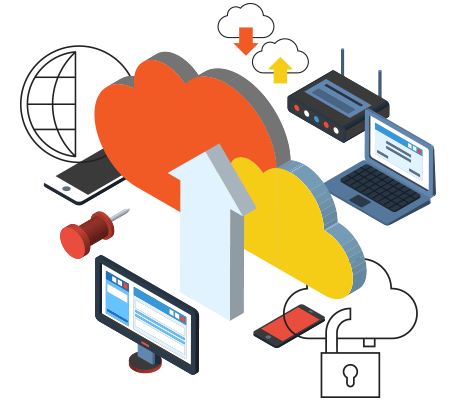 You can't have a website without a domain name. Like a street address that tells people where you live, a domain helps customers drive directly to your website. We can help you register the domain name you'll love.
Web hosting is used to create a space for websites on the internet.
Providing an expert Linux/ Windows hosting support with superior performance to uplift your business above all others. We at Hetalarts, ensure maximum uptime with high performance server resources and a scalable feature to support your business expansion and growing traffic. All these services come to you at a reasonable cost giving a solid foundation to your business.
Basic Hosting:
Trust your site to our authentic web host. Industry leading performance & guaranteed 99.9% uptime. 24/7 monitoring to provide best-in-class security.
Shared Web hosting
Perfect for those who want an affordable solution that's also fast, secure and reliable. Backed by expert 24/7 support.
Tech skill required: Mid-level
Recommended for: Most small business and personal websites
Business Hosting
Need more speed and resources with an easy-to-use cPanel dashboard? Business Hosting is for you. Includes Business Email.
Tech skill required: Mid-level
Recommended for: Business websites that have outgrown web hosting.
Managed WordPress
Built and optimized for WordPress, this is perfect for those who want technical tasks like setup, updates and more handled for them.
Tech skill required: Mid-level
Recommended for: WordPress blogs, websites and web stores
Advanced Hosting:
Looking for something more powerful? We've got you covered. Our advanced hosting solutions rival the best providers on the web in both price and performance.
VPS
Meant for popular, resource-intensive websites that need advanced power, flexibility and control on a budget.
Dedicated Servers
When you need complete control and absolute ownership of your resources, we can spin up your server in hours, not days.
Web Security
For your business to succeed, customers need to trust that you'll protect them from viruses, hackers and identity thieves. Count on our security products to keep your website secure, your visitors safe and your business growing.
Cloud Hosting Services:
The computing solution for the modern digital era is CLOUD. That's the right answer for your storage purpose. Cloud servers are the computing technique of the century and if you are yet to move to the latest technology, Hetal Arts can help you get there. Scrutinizing your specific requirements, Hetal Arts have formulated hosting options that can contribute in improving performance, while generate profitable statement. We provide you the right cloud infrastructure with right resources, ensuring top-notch technical support along with data security to keep your business online always.
Hetal Arts cloud hosting services are designed keeping in mind your IT requirements to provide you an improved ROI along with ultimate flexibility and data security assurance. Our proven, tested and trustworthy approach will help you in determining the business drivers and components with understanding of deployment in a Private or Public Cloud Environment.
Professional Email:
Boost your business with a matching email address.
Promote your business with every message you send. Advanced email management features in cPanel allow you manage your emails, mailing lists and more without any hassles.
Expert, 24/7 phone support.