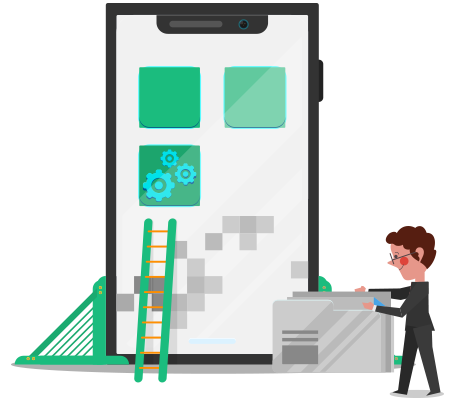 Web Application Development Services
Recognized as an eminent web development company, Hetalarts promises to offer top-notch web application development services at the most competitive pricing. We specialize in rendering flexible and superior quality web applications. Our professional developers possess significant expertise to implement modern technologies for promising web solutions.
The Web application Development Includes application creation which is more than just a simple display of technology. It works on implementing the strategies for solving a problem, doing a process online, making the repeated task easier or automated, creating meaningful reports from data that would otherwise take hours or days, automated reminders and alerts to team and customers etc. The website is just a smaller part of making the business online. This is web applications that make the work easier for business but not visible to the public.
We offer web programming and software development including:
PHP / PHP framework Development
Ecommerce solutions, online store with payment gateway integration
B2B, B2C, ERP, CMS solutions
Custom web applications
Database development, including MS SQL, MySQL, Oracle etc.
Desktop Application Development Service
Hetal Arts leverages the best-of-technologies to develop rich, user-friendly and effective Desktop Applications that work offline and run off the web browser. We help you spruce-up your business environment through rich, easy-to-use, easy-to-access, new-generation Rich Desktop Applications (RDAs) and Rich Internet Desktop Applications (RIDAs). Our desktop applications facilitate instant content synchronization, quick file system access and ready management of downloadable content even while working offline.
Applying our industry expertise and technical experience, we develop Desktop Applications that tone-down the complexity of your business processes, improve your performance and accelerate your business productivity.
Portfolio
Web/Desktop App Development
We are experienced in building world-class B2B and B2C applications. Our desktop applications ensure faster data access, easy content synchronization, and efficient offline operations.