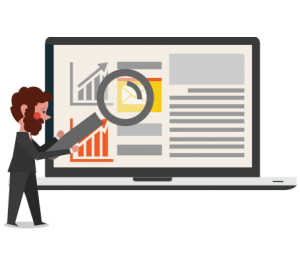 What is SEO?
Search engine optimization or SEO in short, is a set of rules that can be followed by website (or blog) owners to optimize their websites for search engines and thus improve their search engine rankings.
In addition, it is a great way to increase the quality of their web sites by making them user- friendly, faster and easier to navigate.
SEO can also be considered as a framework since the whole process has a number of rules (or guidelines), a number of stages and a set of controls.
Why is SEO important?
Our search engine optimization (SEO) services are designed to increase visibility within the algorithmic (natural, organic, or free) search results to deliver high quality, targeted traffic to your website.
All our work is handmade, theres no artificial bots, spam, or pesticides in our organic strategies, and every campaign we work on is entirely bespoke to your industry, your business, and your team.
How our SEO team can help
Our SEO process is meticulously planned so as to ensure you get the best results for your website. Years of experience and knowledge help optimize your website to bring in a wave of organic traffic. From Keyword Analysis to On-Page SEO to Off-Page SEO to Competitive Analysis, we've mastered the dynamics of it all.
SEO Consultancy
Keyword & Market Research
Technical SEO Audit
Onsite SEO
Penalty Recovery
Link Building
Content Marketing
Digital PR
Outreach
Infographics & Interactive Content
Social Media Promotion
Reporting & Analysis